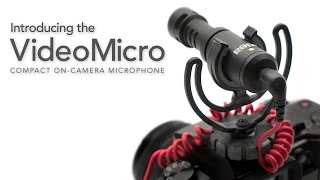 I have been frustrated lately when using my GoPro with a handheld brushless gimbal. The camera picks up so much motor noise that the audio is un-useable. I recently picked up a Rode VideoMicro microphone and really like the sound coming in.
The VideoMicro is a compact microphone designed to improve the audio quality of your videos. It incorporates a high-quality cardioid condenser microphone capsule for great quality audio recordings when used with a wide range of cameras. A directional microphone, the VideoMicro reduces distracting peripheral sounds and focusses on the audio in front of the camera. Its pickup is more forgiving than RØDE's other on-camera microphones providing a more natural sound when recording indoors.
Compact size and lightweight - only 80mm (3') long and 42gm (1.5oz)
All-metal microphone body
No battery required (powered by camera plug-in power - min 3V)
Rycote® Lyre® shock mount included
Deluxe furry windshield included
I have a few Rode mics and really like their quality and sound this one is no exception.
Sidd